EvoWorld Boilers
EvoWorld offer the full range of chip (25kW to 500kW) and pellet (14kW to 500kW) boilers with state of the art operation and control. They have been involved in manufacturing of wood heating systems for over 20 years in Austria. The boilers are compact in design and offer one of the smallest footprints currently available on the market with a market leading warranty of 10 years standard warranty and 20 years on the boiler heat exchanger.
10 Advantages of Evoworld Boilers:
World leading efficiency of 93.8% with a triple pass heat exchanger.
Versatile feeding system allowing flexible plant room layout.
Firebox sensor linked to exhaust fan preventing potential burn-back.
Lambda sensor for maximum efficiency.
Automatic cleaning of heat exchanger using turbulators and a step grate burner.
Remote control via smart phone or web.
Smallest footprint of its class (Evoworld Compact Construction)
Lowest water capacity design.
Rapid controllability through fireclay free construction.
Automatic ash removal using ash removal auger system.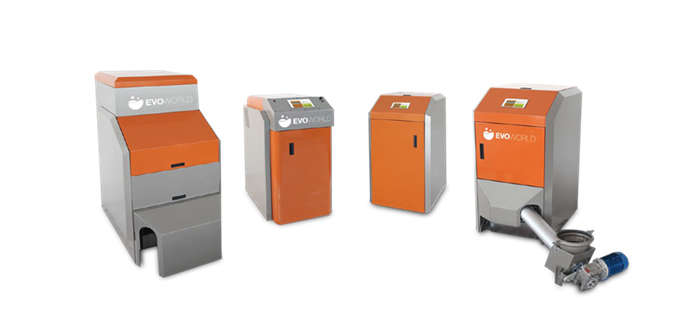 More Information
For more information on Evoworld Boilers and related products, please contact us using the link below: