Case Studies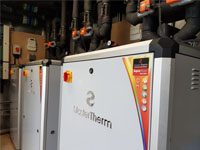 Case Study - Archway House, Cardiff
We were contracted to design and supply a Ground Source Heat Pump system capable of providing heating and cooling for the refurbishment of an office block in Cardiff for one of Wales' leading housing associations.
The result was an advanced system of 4 x MasterTherm AquaMaster 48kW Inverter heat pumps connected in cascade utilising the MasterLAN application. The system's source of energy is provided by an array of boreholes which were drilled under the carpark and linked back to a manifold chamber which was then piped back into the purpose built GRP plant room. During winter months the energy is extracted from the boreholes to provide heat for the building and during the summer months the system can store heat in the ground and provide cooling to the building.
The heating and cooling water is distributed throughout the building via a 4 pipe fan coil system and controlled by Building Management System. The MasterTherm heat pumps are fitted with the internet control module enabling full diagnostics and continuous monitoring of the system.